Caliber.az has published an article entitled "A tale of neo-Nazi: Söder is not sober at all"
News.az presents the article:
"If you tell a big enough lie and tell it frequently enough, it will be believed," said Adolf Hitler, the founder of the fascist Nazi government that ruled Germany between 1933 and 1945. You may think why the article begins with a quote from a Nazi leader. This is for a cause. We will tell you about a fascist liar that nestled in the Swedish parliament to advocate for what he believes is true even if it's a big portrait of a lie.
Björn Söder, a member of the Swedish parliament from the ruling Sweden Democrats, a nationalist party with fascist roots, has recently popped up in Armenia's capital Yerevan to once again manifest his support for an Armenian campaign aimed at raising awareness about the alleged "blockade" on the Lachin road. He wrote on Twitter that "the world community must react, condemning, and demand lifting Azerbaijan's blockade" on the highway that connects Armenia with the Karabakh region.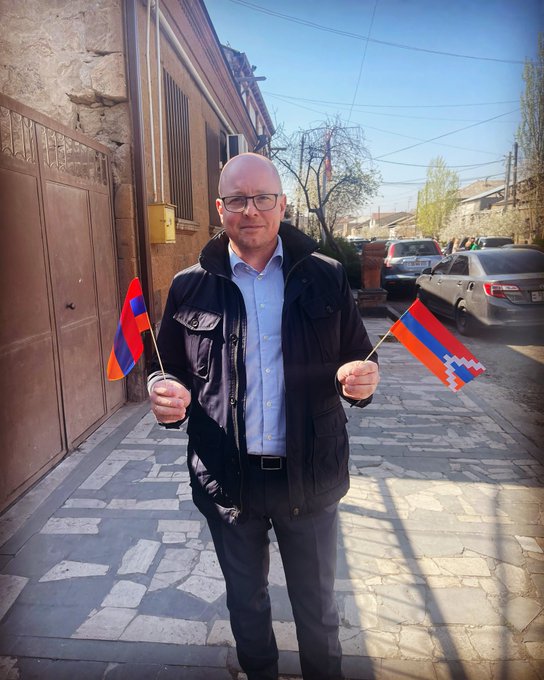 The Swede, whom Armenians call "a friend" of the Republic of Hayastan, is convinced that by such calls he stands for "Artsakh", a self-designed separatist entity in Karabakh (by the way, we looked through multiple international documents and world maps to see what is "Artsakh" but to no avail). Söder, like separatism admirers in Armenia and Karabakh, thinks that "Artsakh" is a separate Armenian state that should be protected against what he believes to be an "aggression by Azerbaijan".
During the 2020 Armenia-Azerbaijan war, Söder was one of the European flag carriers of the anti-Azerbaijan campaign. He was then amused by messages for his support for the "small and proud democratic republic of Artsakh" which faced "Azerbaijan's aggression". Even in 2021, Söder received a medal from the Armenian government for his deeds. In his speech of gratitude back then he did not forget to once again mention "Artsakh" and "Azerbaijani aggression".
Björn Söder receives a medal from the Armenian government
Söder is explicitly obsessed with lies. First, there is no alleged "blockade" on the Lachin road. There are Azerbaijani protesters who have been demanding an end to the illegal exploitation of natural resources in Karabakh. But they do not interfere with the humanitarian vehicles' movement on the road. It is open for daily humanitarian traffic by the Russian peacekeepers and the International Red Cross Committee convoys. Since the start of the protest action on December 12, 2022, more than 5,600 vehicles used the highway for humanitarian purposes.
Second, there is no territorial unit called "Artsakh" within Azerbaijan's sovereign borders. The entire international community recognizes it to be Karabakh, a part of Azerbaijan. This small mountainous region staged two bloody wars between the two South Caucasus nations in the early 1990s and 2020 as a result of Armenia's illegal territorial claims.
Armenia and Azerbaijan have long been at odds over the latter's Karabakh region. Following the Soviet Union's dissolution in 1991, Armenia launched a military campaign against Azerbaijan that lasted until a ceasefire deal was reached in 1994. As a result of the conflict, Armenia occupied 20 per cent of Azerbaijan's internationally recognized territories, including Karabakh. Over 30,000 ethnic Azerbaijanis were killed, and one million were expelled from these lands in a brutal ethnic cleansing campaign carried out by Armenia.
On September 27, 2020, the decades-old conflict between the two countries spiralled after Armenia's forces deployed in occupied Azerbaijani lands shelled military positions and civilian settlements of Azerbaijan. During counter-attack operations, Azerbaijani forces liberated over 300 settlements, including the cities of Jabrayil, Fuzuli, Zangilan, Gubadli, and Shusha. The war ended in a tripartite statement signed on November 10, 2020, under which Armenia returned the occupied Aghdam, Kalbajar, and Lachin districts to Azerbaijan.
Azerbaijani soldier hoists national flag in liberated lands
Following the war, Armenia refused to withdraw its militants from parts of Karabakh settled by Armenians despite the obligations it took under the trilateral agreement. The armed formations have been committing offensives on the Azerbaijani positions since late 2020. The Armed Forces of Azerbaijan conducted several counter-operations to neutralise the armed gangs and cut their arms supplies to Karabakh, which Söder and others classified as "aggression".
By the way, an interesting moment here is that the word "aggression" can be seen in most sentences uttered by this Swedish politician. This arguably stems from the party – the Sweden Democrats, of which he is a member. This party is fairly known for its aggressive fascist and anti-multiculturalism sentiments. For instance, Söder and his party comrades stick to bellicose rhetoric about the Muslims in Sweden, who they think can never be Swedish.
Sweden Democrats Party – an offshoot of neo-Nazism
It was founded as a group of far-right youth in 1988 by Anders Klarström and his associates. Klarström was an active member of the neo-Nazi Nordic Reich Party, of which meetings featured brown shirts and party members performing the Nazi salute, and their security was provided by skinheads. Today, the Sweden Democrats (SD) is classified as an "offshoot of the neo-Nazi movement" due to its aggressive anti-immigration and anti-multicultural policy.
Björn Olof Söder's political career crossed with the Sweden Democrats (SD) in 1994. He has been a Member of the Swedish parliament - Riksdag – from the SD for Stockholm County since October 2010. He previously served as Leader of the Sweden Democrats in the Riksdag from 2010 to 2014 and Secretary of the Sweden Democrats from 2005 to 2015.
The affiliation of Söder with the neo-Nazi-rooted SD was not a bolt from the blue since he was known well as an old neo-Nazi hanging out with Franz Schönhuber from Waffen-SS, a combat branch of the Nazi Party's Schutzstaffel (SS) organization. His career at the SD helped the Swede promote his neo-Nazi aggression against other nationalities and human rights advocates.
"The third most important head of Swedish democracy is a man named Bjorn Söder. As a politician, he spent time with Waffen-SS member Frans Schönhuber, which is documented," Aftonbladet tabloid-newspaper author Martin Ogard wrote.
Söder has also a proven track record in anti-semitism. In 2014, the far-right SD top official caused an uproar in Sweden after saying people who identify as Jews cannot be seen as true Swedes. Back then he told the local newspaper Dagens Nyheter that some groups in Swedish society were citizens but belonged to other nations — namely Jews and Sami.
Swedish Prime Minister Stefan Löfven called the Swedish Democrats "neo-fascist" after Söder's remarks, while the president of the Council of Swedish Jewish Communities, Lena Posner Körösi, said the comments reminded her of "1930s Germany."
Söder was also one of the hostile critics of the Stockholm-based Civil Rights Defenders international non-governmental organization, which is engaged in human rights work, with a particular focus on civil and political rights.
In October 2022, he urged to wean off government funding for the organisation, calling it a "swindler". The motive behind his aggressive rhetoric was a report by the Civil Rights Defenders about the human rights violations in Hungary led by Prime Minister Viktor Orban's Fidesz party.
So, speaking about an alleged "aggression" of others, fascist Söder should better take a look at the mirror and say "mirror, mirror on the wall, why a neo-Nazi should attack innocent all" …